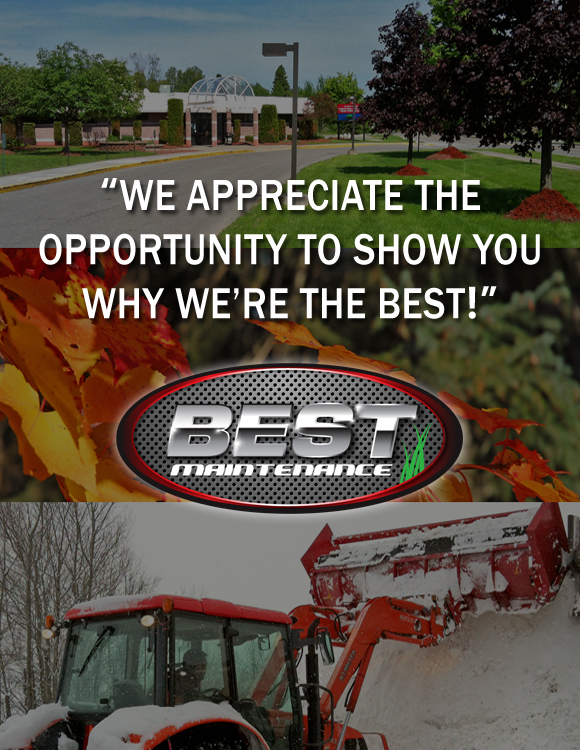 Best Maintenance & Lawn Care Services
"Committed to Excellence & Maintenance"
Best Maintenance & Lawn Care Services of Sault Ste. Marie, MI has been in business since 1995. Let our experience and expertise help you make your property beautiful and well maintained all year-round.

Providing Our Very "Best" to Our Local UP Communities
We take pride in providing our services to a wide range of clients starting from our hometown of Sault Ste. Marie to St. Ignace, MI - along with all points in between. Whether you are in need of Brimley Lawn Care or Snow Removal in Sault Ste. Marie, MI, let us help you make life more relaxing and safe. View our Upper Peninsula Lawn Care and Snow Removal Service Area below:

Warm Weather Services
We provide services for both residential and commercial properties all year round. Spring, summer & fall we offer a wide range of the "Best" maintenance ranging from hydroseeding to landscaping. We also stock three colors of high quality hardwood mulch and we deliver.
Lawn Maintenance - Fertilization, Sidewalk Edging, De-Thatching, Core Aeration Treatment
Hydroseeding - Lawn Leveling, Sod Work, Topsoil Maintenance
Fertilization - Michigan State Certified and Licensed Pesticide Applicators - Insecticide Application, Pesticide Application, Grub Control
Spring and Fall Clean-up - Rake or Blow Leaves and Grass Clippings, Preparing Trees or Shrubs for Winter, Spring Bulb Planting, Cutting Back Foliage, Tree Staking
Brushhogging -Variety of abilities, clearing out larger plots of land ranging from 2' to 16' wide. We also provide pond edging.
Landscaping - Landscape Design, Full Removal and Replacement, Flower Bed Maintenance, Planting, Mulch and Decorative Rock Installation, Tree Removal
Pressure Washing - Commercial and Residential Building, Parking Lots, Boats, Construction Equipment, Gutter Cleaning, "We come to you!"
Irrigation Systems - Start Up and Shut Down, General Maintenance Including Head Repaid and Replacement
Winter Snow Removal Services
Best Maintenance and Lawn Care also provides Snow Removal Services. We currently only provide snow removal services for Sault St. Marie, MI. We can help you enjoy winter along with making it safer for you and your loved ones:
Commercial and residential snow removal
Entrances and walkways
Snow removal for decks and porches
Parking lots
Sidewalk calcium chloride application